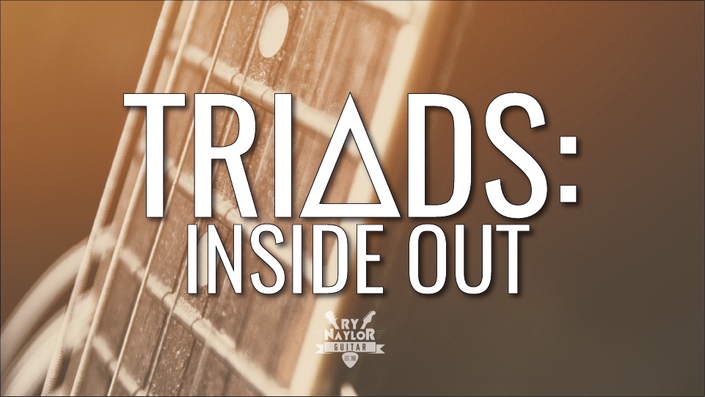 TRIADS: Inside Out
Break out of common chord boxes and revolutionise your playing with new, innovative approaches to chord progressions using triad shapes.
Watch Promo
You might not have realised, but triads were probably one of the first things you ever learnt on guitar.
E major - it's a triad
A minor - yep, triad
D7 - you guessed it…triad
C major - three triads glued together!
Triads are chords. They're the bare bones of harmony, the three elements combined to make what we more commonly name as simply 'chords'.
They are seen and used in countless songs across vastly different genres: rock, pop, funk, folk, reggae, ska (even metal!), which makes them essential learning.
There are literally hundreds of ways to play any chord if you understand how chords are built and how you move them around the neck.
Not only will the study of triads revolutionise your rhythm playing, it will also ensure you hit the right notes every time in your lead solos.
Your Instructor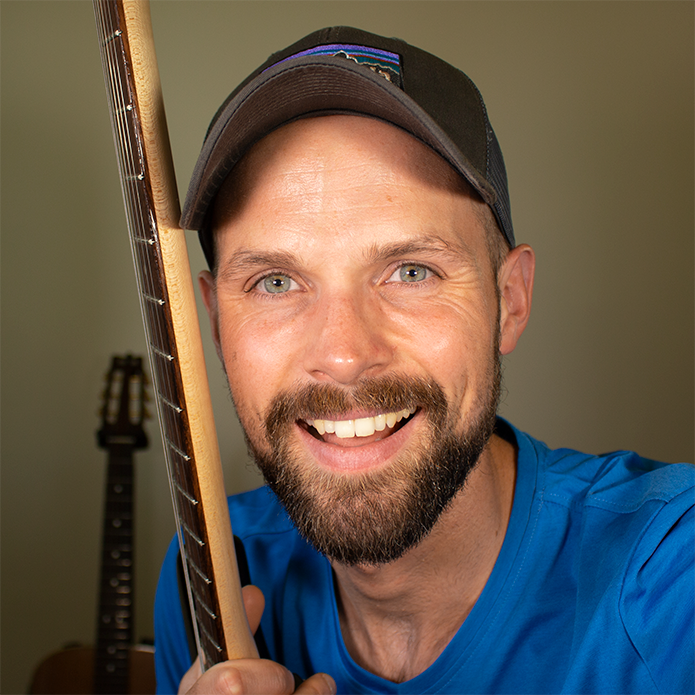 Hey, I'm Ry Naylor and I am a British guitar instructor and professional transcriber based in Toulouse, France, with over twenty years of experience.
I am passionate about enlightening my students' understanding of what they play through the application of music theory in a clear, concise and fun way.
This approach is behind my hugely successful Instagram account with over 55,000 followers, and my YouTube channel with over 32,000 subscribers and over 3,5 MILLION views.

In this comprehensive course, designed to motivate and inspire your weekly practice, I will break down triad shapes and teach you how to memorise and apply them in your own playing.
I will show you a systematic way of dividing the strings into four sets of three adjacent strings and teach you every, single possible closed voicing triad from any note on the fretboard.
We will then use these shapes as a basis to explore open (or spread) triad voicings to create beautiful sounds from even the most simple of chord progressions.
Sign up now for instant access!
The course will cover the following:
The theory of the triad

Major, minor, diminished and augmented triad shapes

What inversions are and how we play them

All closed voice triads

Playing chord progressions and creating second guitar parts anywhere on the neck

Applying octave shapes to closed voicing triads to 'spread' the notes out for open voice triads

Sus chord grips

Using triads as substitutions for seventh chords

Combining triads with different bass notes for creating more colourful chords

Other great sounds derived from triad shapes - namely thirds, sixths and tenths


Tria

d application for lead playing - arpeggios and chord tone soloing
There will be detailed breakdowns of the concepts with explanatory notes and pdf tab downloads. There will also be exercises at every stage to add to your practice schedule to master the concepts taught.
Who is this course designed for?
The student in mind when I created this course is an intermediate player with a solid grounding in the fundamentals of music theory.
You will have learnt all of your open chords and common barre chord grips (rooted on string 6(E) and string 5(A)), but are longing to not be restricted in your playing.
You want be able to navigate the fretboard and play through any progression in any style anywhere on the neck.
Here is what students had to say about my first course, 'Guitar Rut Busters: Essential Theory':

"This course opened my eyes."
- DL Edwards, USA

"Ry has a very relaxed yet thorough teaching manner/skill, and his lessons are set at a pace that allows you to fully absorb their extremely accurate content."
- Phil James, UK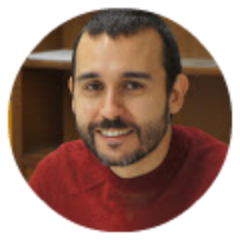 "The best teacher that I've ever had."
- Julian Lopez, Spain
Pre-Requisites
Ideally student will have read my 'Fretboard Mastery' eBook and completed my introductory theory course 'Guitar Rut Busters: Essential Theory'.
Theoretical concept will be reviewed in this course but, at the very least, the student is expected to know the following:
Naming of notes (musical alphabet/sharps/flats)

Fretboard Octave Shapes

Major Scale Formula

Key Signatures / Circle of Fifths

Chords in a Major Key

Natural Minor Scale Formula

Chords in a Minor Key
Frequently Asked Questions
How will I access the course?
You get instant access to the ENTIRE course once you sign up.
How long do I have access to the course?
Forever! Sign up for 'Triads: Inside Out' once and you'll have lifetime access to the course materials, which will be continuously reviewed and updated.
Do you offer any refunds or guarantees?
If you are in any way unsatisfied with your purchase, let me know in the first 30 days and I will give you a full refund. 30 days?! Yep. I'm that confident that you're going to love what I have to share with you!
Can I download the videos?
The course videos can be streamed in web browsers or using the Teachable iOS app. The teaching content (pdfs) are downloadable, but not the videos (to protect them from being posted anywhere else).
What format is the course content delivered in?
The course is predominantly video, with an accompanying pdf tab handouts of the content of each video lesson.
Sign up now for instant access!